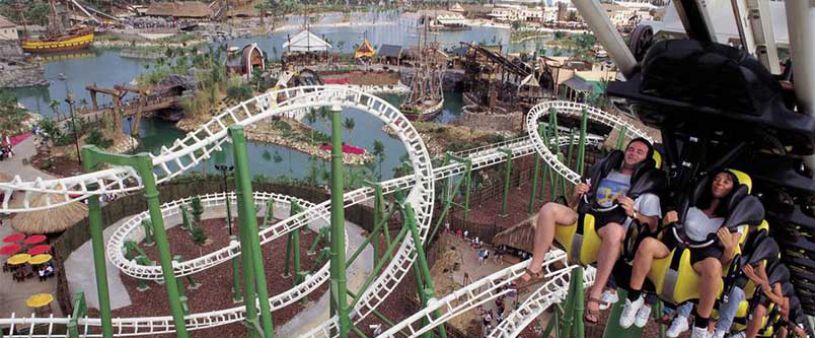 Isla Mágica, Seville
An ideal place to spend your holidays? Well, there is no better place than Isla Mágica, Seville. Have a different and fun day with your whole family! Read on and learn more about this incredible place in Seville. Don't wait any longer and read about this specially created content!
Highlights of Isla Mágica, Seville
Isla Mágica de Sevilla is the name given to the theme park inaugurated in 1997. Obviously it is located in Seville, Spain and has as its central theme the discovery of America. It has 6 different themed areas capable of giving you a very fun trip through history. Besides having a good time! In addition to this, less than 3 years ago was inaugurated as an extension of Isla Mágica the water park Agua Mágica. This part has a spectacular artificial beach!
As far as the history of this place is concerned, it can be said that it dates back to 1992. On that date, The Cartuja 93 society proposed the idea of putting up a theme park near the lake of Spain. This area was being misused! After an arduous effort, in 1997 this spectacular park opened its doors to the public and today it is still growing. His last improvement or addition was in 2017!
Thematic areas of Isla Mágica, Seville
The Seville theme park, in general terms, has a compendium of 6 tourist attractions. One more interesting than the other! These areas include:
1. The Seville area, Puerto de Indias: This area represents the Seville of the 16th century. Therefore, it is normal to find several extras dressed in a similar way to those times. It has attractions such as:
La travesía, which is a 10 to 15 minute boat trip.
El desafío, which is a controlled fall tower to raise the adrenaline rush.
Lagobola, an attraction that consists of walking around the lake in a giant and transparent plastic ball.
Los roscos chocones, which are boats that function as an ordinary chocone cart.
2. The Puerta de América area, where you can have lunch and watch a great musical show at the same time. Among its most representative attractions are:
The anaconda, artificial water channel with 3 different falls. It's the most visited attraction on Isla Mágica!
The Barbarossa Ship, a giant ship that swings you from one side to the other.
3. The area La guarida de los Piratas, where the most sought-after Pirates of Isla Mágica are hiding. Here you will find a port, a frigate and a very entertaining pirate town.
4. The area La Fuente de la juventud, where most of the children's attractions coexist. It has waterfalls, animals, lakes, caves and a first class setting. You can find dragons too!
5. The area of Agua Mágica Sevilla, where a water park has been set up for all ages. Its last attraction to date was placed in 2017 and it is a zipline pool.
6. The area of El Dorado, with flying chairs, 4D cinema and rafting on boats. Fun everywhere!
Be sure to visit this park which, curiously enough, was the first of its kind in the world. The first theme park located inside a city!