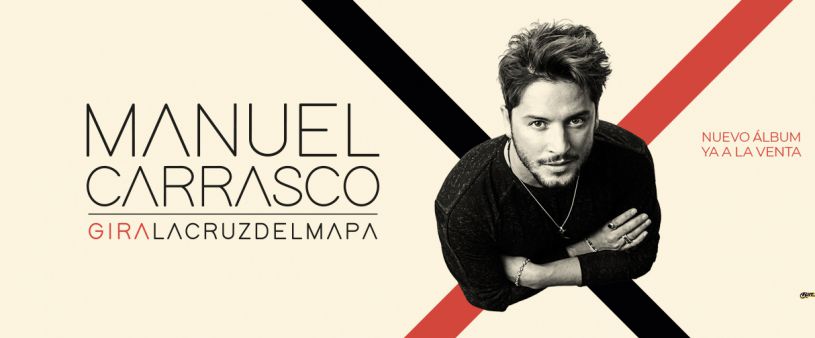 Manuel Carrasco in Seville 2019
Friday June 21, 2019 is the date chosen for the celebration of Manuel Carrasco's concert at Estadio Benito Villamarín in Seville.
The performance is part of his tour "La cruz del mapa" where he presents his new studio album of the same name, which has been recorded at the Abbey Road studio in London, and produced by Pablo Cebrián with the participation of the London Symphony Orchestra.
CONCERTS
May 04 - Valladolid, Polideportivo Pisuerga (Valladolid).
May 11 - Estadio Iberoamericano de Huelva.
May 17 - Marenostrum Music Castle Park (Fuengirola, Málaga).
May 18 - Pier of the city of Cádiz.
May 24 - Palau Sant Jordi (Barcelona).
June 07 – Bullring of Murcia.
June 15 - Bilbao Arena Miribilla.
June 21 - Estadio Benito Villamarín (Sevilla).
June 29 – Estadio Wanda Metropolitan (Madrid).
August 09 - Tarraco Arena Plaza (Tarragona).
August 16 – Bullring of Alicante.
September 06 – Bullring of Valencia.
October 05 - Navarra Arena (Pamplona).
All concerts will start at 10:30 p.m.
The tickets were put on sale on December 21, 2018 at 10 a.m. and in many of the cities sold out quickly.
For the rest of concerts with tickets still available, they can be purchased at www.manuelcarrasco.es, www.riffmusic.es and www.elcorteingles.es.
Stay at Adriano Hotel Sevilla and enjoy the wonders offered by the second largest historic center in Europe.
You will find the best prices and discounts in booking directly from our official website www.adrianohotel.com
I.P.P.