Antonio De Ulloa in the Archivo General de Indias of Seville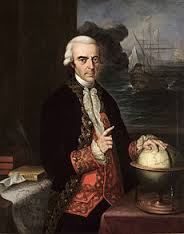 Until June 28, 2015 takes place in the Archivo General de Indias in Seville an exhibition about the personal library of scientific and marine Seville Antonio de Ulloa of Guiral Tower. The exhibition has been organized by the Library of the University of Seville and sponsored by the University of Seville and the University Massachusetts Boston. The exhibition presents a selection of books of the sixteenth and eighteenth centuries, who either belonged to Ulloa and are identified with a beautiful bookplate or are directly related to his training as a Marine.
 Library of the University of Seville
The books come mostly from the Library of the University of Seville, although also included books, nautical instruments and other objects of the Real Instituto y Observatorio de la Armada in San Fernando, other institutions or individuals, and a series of documents Archivo de Indias illustrating some of the most significant episodes in the fascinating biography of Admiral. The purpose of the exhibition is to show the presence in the University Library Library Ulloa, which was acquired by purchase from the mid-nineteenth century and deepen the knowledge of a Seville that, despite occupying deservedly one place among the greatest intellectual figures of weight in the eighteenth century Spain, remains for many a perfect stranger. It is also a tribute to the Learning Resource Centre and Research Antonio de Ulloa, new model of university library opened in October 2013 on the campus of Reina Mercedes. Although in the personal library of a man like Ulloa present works of diverse disciplines are, include those related to the nautical including travel books and atlases náuticas- letters, natural history and mathematics. A special place with the four volumes of historical Relationship Viage to Middle America, considered one of the most important works of Spanish eighteenth-century science, illustrated with an extraordinary series of prints that calcográficos also become one of the most successful products in the Spanish press. From March 25 to June 28, 2015 Free entrance. Monday through Saturday from 9:30 to 17:00 h. Sundays and holidays from 10:00 to 17:00 h. Guided tours daily at 12:00 and 13:00 h visits.