Popular Race for Multiple Sclerosis in Seville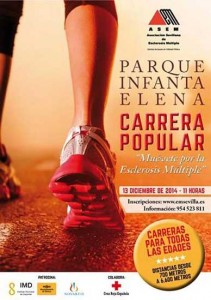 The 1st Popular Race for Multiple Sclerosis will take place in Seville on 13 December 2014. This sporting event has been organized, how could it be otherwise, by the Seville Multiple Sclerosis Association (ASEM).
It's possible to participate in three different categories, depending on the age of the participants. Then, the three options are absolute proof, for those over 14 years (6600 meters); the juvenile and child, for children between 10 and 13 years (1600 meters); and finally, the youngest-prebenjamín category, where we can see small children with less than 9 years (700 m).
Location selected: Seville
The Seville Park Infanta Elena will be the place where we will enjoy this popular race, in which the money raised with the entries will be donated to this wonderful cause.
The time also depends on the category in which you participate, beginning at 11:00 am if you belong to the absolute; at 12:30 if you are in juvenile and child; and 13:05 hours instead if you participate in the youngest-prebenjamín category. The price of the inscriptions ranges from 2 to 7 euros.