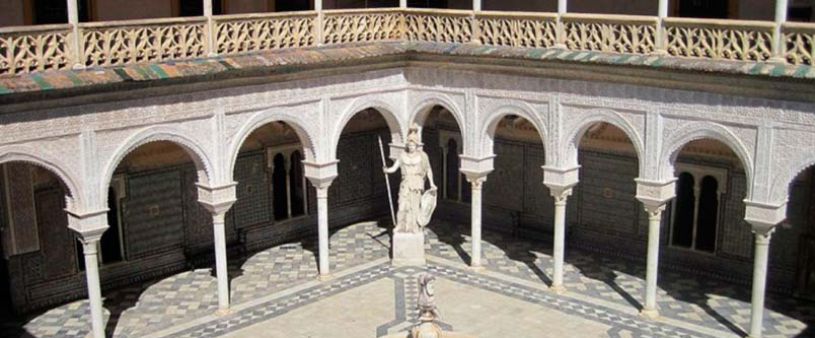 "Casa Pilatos" of Seville
Are you planning to visit Spain in a near future? Then, you cannot leave the city without seeing "Casa Pilatos". It's a Palace that will impress you! If you never have heard before about this building, then you can't stop reading this interesting information. Learn more about this place and why you should visit it today if it is possible!
General characteristics "Casa Pilatos" of Seville.
It's very common to find architectonical wonders in over Seville. A good example of this, it's the construction already mentioned Casa Pilatos, prototype of palace in Andalucia. What secrets can hide this construction!?
This Andalusian Palace was built in 1483 and was ordered by Pedro de Quiñones. This person was an high military post.
Concerning to the structure, we may say that it's a gothic and renaissance style. It has a main courtyard and it has a fountain in the centre with sculptures of the Godess Palas. A typical Andalusian courtyard that no leaves indifferent to anybody! This courtyard has too 24 esculptures of Roman and Spanish emperors and famous celebrities. Everything is splendidly arranged in the lower gallery of the courtyard!
This palace has a spectacular marble entrance and an admirable upper part. You can reach the latter by staircases decorated with tile plinths. Quite a beauty! In this part paintings from the 16th and 19th century are preserved equally. All worthy of observation!
On the left side of this floor you can see the frescoes made by Francisco Pacheco in 1603. They highlight the best and most important moments in the history of Hercules. And he still has many more surprises to discover!
A touristic place in Seville that you can't miss at all! Especially because of its important history for the Sevillian city and Andalusia!
Why is that the name of the' Casa Pilatos' in Seville?
The reason why Casa Pilatos gets its name from the "via crucis" that began in 1520. It was celebrated inside the chapel´s house. However, as time went on, the house became smaller and smaller for the procession. This is how it was decided to make the "via crucis" outside the house, the first station being this particular palace. That's why it's called that way!
To get to this construction site in Seville you will have to go to Andalusia and head for the Plaza de Pilatos. It is located in the area of Santa Catalina in Santiago, near La Judería Street. There you will find this unique and surprising palace!
Curiously enough, this palace has been the centre several Hollywood films. For example, the 1992 film called Lawrence of Arabia that won 7 Oscar awards. Don't wait any longer to visit it!