House palaces in Seville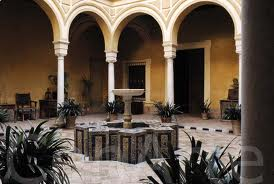 Has been presented the book "Homes in Seville from the Middle Ages to the Baroque", written by the Professor of Art History at the University of Seville, Teodoro Falcon, edited by the publisher Maratania. In Seville there are 100 houses-palace with a wonderful heritage, but there are few more emblematic and important than others. Thanks to this book, the tourists who visit the city, can learn much better the history of each of them. In addition, the book will enable readers to know the inside of these houses-palace, of difficult accessibility most of them, because there are 230 photographs. It is the first book devoted to analyzing the evolution of the architecture of Sevilla, from the Middle Ages to the XVII century. It covers all kinds of details, from the history of the construction of the houses-palace, until their courtyards, halls and fortified towers. Highlight fourteen houses-palace, which are those that the author has chosen in this book for what they represent for the city. The book is divided into three sections:
Middle Ages Period
: 1-Mudejar Palace of Pedro I of the Royal Alcazar (Plaza del Triunfo s/n). 2- Altamira Palace(Calle Santa María la Blanca, 4). 3-House of the Rey Moro (Calle Reinoso, 8). 4-House of the Marquises of Algaba (Plaza de Calderón de la Barca).
Renaissance Period
: 5-House of Pilatos (Plaza de Pilatos , 1). 6-Palace de las Dueñas (Calle Gerona, 3). 7-House Almansa (birthplace of Miguel de Manara). (Calle Miguel de Mañara s/n). 8-House of Pinelo family (although only lived Jeronimo Pinelo). (Calle Abades, 9)
Baroque Period
:                                                                                                                                  9-Archbishop Palace (Plaza Virgen de los Reyes s/n).                                               10-Casa de la Condesa de Lebrija (belonging to the family Paiba). (Calle Cuna, 8).                                                                                                                                                  11-House of Bucarelli family (Calle de Santa Clara).                                                    12-House of Villa family (Calle Muñoz y Pabón)                                                              13-The House of the Admiral López Pintado (Calle Santiago).                            14-House of Benito del Campo (Calle San José). Book your
hotel in Seville city center
and discover the houses palace.