Enganches 2015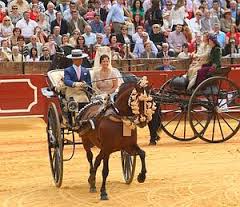 The next April 19 will be the traditional Exhibition of Enganches 2015 in Seville at the Bullring Real Maestranza. In its thirtieth edition, this exhibition will allow us to enjoy a whole cast of carriages, some of the nineteenth century, restored and driven by spectacular Spanish thoroughbred horses, and their occupants timely dressed in period costume.
XXX Exhibition of Enganches
The carriages will be concentrated at 10:00 hours on the streets Antonia Diaz and Adriano, where will begin the first assessments of the judges, and 12:00 hours will enter the Bullring to begin the XXX Exhibition of Enganches. Tickets to attend the exhibition will be on sale from 13 to 18 April. The outlets are: -Headquarters of Real Club de Enganches of Andalusia in the Carriage Museum of Seville (Plaza de Cuba, No. 10). -In Shopping Centers El Corte Inglés in Nervión and Plaza del Duque. -Visitors Expert Centre-City Sevilla (Constitution Avenue, No.21 in hours 9:30 to 20:00). -Box offices of the Bullring. The day of the show may purchase tickets at the box office of the Real Maestranza. Box office hours: from 10:30 to 14:00 and 17:00 to 20:30 hours. Ticket price between 3 and 12 euros.