Young Expo in Seville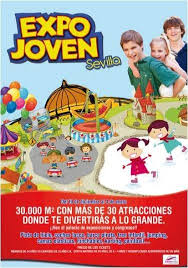 From December 19 to January 4, a new edition of Young Expo will be held in Seville.
If you are looking for
hotels in Seville close to Fibes
, we have great deals on our website. This event is undoubtedly the biggest entertainment fair in town. It will be developed as the last years, at the Palace of Exhibitions and Congresses of Seville, Fibes. Young and teenagers will have many fun activities like ice rink, bumper cars, bouncy castles, pirate ship, children's train, jumping, trampolines, go-karting, paintball, etc ... Over 30 attractions to enjoy with family or friends. Enjoy Young Expo from 19 December to 4 January at Fibes, Avenue Alcalde Luis Uruñuela, 1, from 11 am to 9 pm. On 24 and 31 December from 11 am to 4 pm. On 25 December and 1st January from 4 pm to 9 pm. Rates: Children under 4 years old and adults over 65 years: Free admission. Children between 4 and 24 years old: 10 euros. Adults over 25 years old: 5 euros. Days 24, 25, 31 December and 1st January: 5 euros. Family Ticket, 2 adults + 2 children: 25 euros.