Exhibition at the Andalusian Centre of Contemporary Art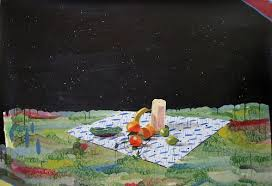 The Andalusian Centre of Contemporary Art in Sevilla  will host 
the exhibition of the
 Sevillian artist Miki Leal "Combined Plate" until next February 2.
The artist presents in this exhibition a work with 
elements 
previously unknown, related to the personal memory and some fundamental questions of his life, especially his family and work. Leal returns to the past, to his childhood. He looks for the origin of 
his 
artistic condition.
The sample is related to happiness in childhood. One of the most important innovations of the exhibition is the inclusion of small still life in clay. Enjoy this exhibition at the CAAC in Seville (Avenue of the Discoveries s/n) untill February 2, 2014 from Tuesday to Saturday from 11 am to 9 pm and Sunday from 11 am to 3 pm. The price of the exhibition is 1.80 euros but from Tuesday to Friday (from 7 pm to 9 pm) and Saturday admission is free. If you are looking for
accommodation close to the Andalusian Centre of Contemporary Art
, see our offers.