Exhibitions at the CAAC of Seville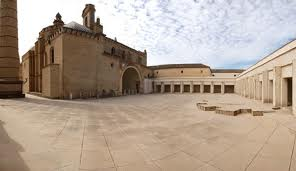 The exhibits at the CAAC in Seville are very frequent along the year. On this occasion, the artist José Miguel Pereñíguez presents "The other", a project he has worked for the past year. Pereñíguez gives his personal visual speech based on literary references and images of the past. From models of human types and objects of the Caucasus culture that  Leo Tolstoy 
includes 
in his novel 'Hadji Murat', some reconstruction and review exercises are raised.
The human figure, as reality or taking part in a social game, and the object, as a product of a culture or dissolved in the modern design, intersect in a web of relationships that takes as a reference the writings of Adolf Loos and the Homeric lexicon which describes the soul and body. It is an exhibition with a complex and fascinating literary-artistic proposal that emerges from the preferences and interests of the artist born in Seville. Enjoy this exhibition at the CAAC in Seville, Avenue of the Discoveries s/n, from November 22, 2013 to February 23, 2014 from Tuesday to Saturday from 11 am to 9 pm and Sunday from 11 am to 3 pm. The price of the exhibition is 1.80 euros but from Tuesday to Friday, from 7 pm to 9 pm, and Saturday admission is free. Our
hotel close to the Andalusian Centre of Contemporary Art
, offers the best deals on accommodation.
We request your permission to obtain statistical data on its navigation on this website, pursuant to Royal Decree-Law 13/2012. If you continue to browse we consider to accept the use of cookies. SPECIAL CANCELLATION POLICY FOR HOLY WEEK,APRIL FAIR /PRE-FAIR • Non-refundable Rate/ Sevilla Monumental: The 100% of the whole stay will be charged at any time after booking. 100% non-refundable amount. In case you modify, cancel or you do not show up, you will loose the 100% amount. • Flexible rate/ Sevilla Clásica: The 50% of the whole stay will be charged at any time after booking. Free modification or cancellation until 15 days before arrival date. In case of non presentation, late modification or cancellation, you will loose the 50% amount of the whole stay. NOTE: For Holy Week reservations including Good Thursday and Good Friday, a minimum stay of 4 nights will be required, and you must pay for all of them after booking.
OK
|
More information