Homage to Paco de Lucia in the Teatro de la Maestranza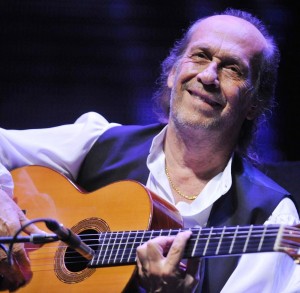 The February 25, 2014, unexpectedly died in Mexico Paco de Lucía. On the first anniversary of his absence, the Teatro de la Maestranza in Seville summit offers a fantastic flamenco guitar to evoke the teacher. 6 guitarists to honor the 6 strings that revolutionized the genre. Antonio Sanchez, Dani de Morón, José María Bandera, José María Gallardo, Juan Carlos Romero and Rafael Riqueni: six hits artists who, like all post-emergence guitarists Paco de Lucía, could not ignore, one way or another to their influence.
The saga of The Lucia
Younger brother of the saga of The Lucia, with Ramón de Algeciras and Pepe de Lucía, as they received musical education from his father, Antonio Sánchez Pecino also guitarist. In a very close to Paco de Lucia flamenco family atmosphere soon made ??contact with some of the leading figures of flamenco, one of his main influences Niño Ricardo and Sabicas. Following the disclosure of the Spanish flamenco in the International Contest of Flamenco Art in Jerez de la Frontera of 1962 he recorded his first albums with his brother Pepe as part of the Los Chiquitos de Algeciras. In subsequent years will work with touch and Fosforito Lebrijano singers and since 1969 with Camarón de la Isla.
From the publication of Source and flow in 1973 his music came to mainstream audiences. Over the years his music was gradually opening up to new styles as he began to read in areas further away from traditional Spanish and Latin American Tablaos. Interprets successfully in Europe, North America and Japan occupying these tours most of your time.
A year without Paco
When met just a year after the death of genius six guitarists come together to remember and pay homage and declaration of love. They will perform six pieces of the master and his works in tribute to Paco, for the six strings of his six guitars.
The tribute starts at 20:30 hours and prices vary between locations 26 and 43 euros.