II Half Triathlon in Seville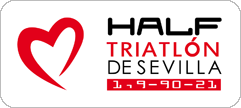 You can already register for the II Half Triathlon in Seville. On 30 May at 15:30 is the date chosen for the testing of middle distance.
Combining strength and resistance, the triathlon wins fans in our city. Through three races, swimming, cycling and running walk, participants will demonstrate their skills in this sport and overcome your own limits.
As a reward offered discounts and prize money for the Federated in triathlon.
In addition, children can start and strengthen its taste for the sport with the aquathlon, with tests especially designed for them.
Come with the whole family!