Reporters of closeness in Seville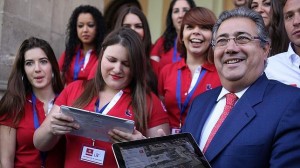 The City of Seville, through the Tourist Board and the Faculty of Tourism and Finance, University of Seville, have signed an agreement that about 20 students of this faculty will become reporters of closeness in Seville proximity, in the main and sites of Seville.
If you are looking for
hotels in Seville close to the Cathedral
, we are your best choice. As explained during the presentation of this joint initiative between the City and the University, this is an action "pioneer" and "a step forward" for tourism in the city, which will get even closer to the needs of visitors the city of Seville, resolving doubts in a mobile device. These youth will be supervised by staff of the Tourist Board.