The Roman Seville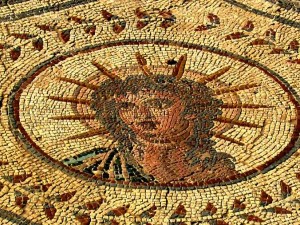 In Seville the Romans had two main settlements. The first is dated to the first century BC, with the first arrival of Caesar to Seville. The first reference is the year Roman 206 BC, when the battle occurs Llipa and based Italica. With the second coming of Caesar to Seville is created Imperial City, started from the year 45 BC. Coincides with the battle of Munda and granting title to the city of Colonia Julia Romula Hispalis. For the remains preserved in the Roman Seville is a must visit various parts of the city.
The Antiquarium
A museum with Roman ruins located in the Space Metropol Parasol in the Plaza de la Encarnación, which highlights the Mosaic Bird House.
The Palace of the Countess of Lebrija
In Cuna Street is a space where well preserved Roman mosaics. The mosaic of the god Pan, who occupies the center of the main courtyard, is one of its main attractions. The Archaeological Museum Located in the Plaza de America, in it we find utensils, coins and especially various interesting and Roman statues with well-preserved mosaics.
The Alameda de Hercules
The four columns were part of a Roman temple which stood at Marble Street. The sculptures are the crown of the sixteenth century, although copies of Roman figures. If you are looking for
hotel deals in the center of Seville
ask us