What you can't miss Seville overnight
Seville is a magical city, a city of people everywhere, a city that enjoyed day and night.
Its streets offer good environment, safety and desire to walk, especially at night. And it is that there are places in Seville that should visit them at night, to admire the beauty of the shadows in each building.
Seville at night
Romantic city where exist, not can leave Seville without visiting Spain square when the sun sets. A spectacle of lights and reflections that will leave without speaking up to the hardest.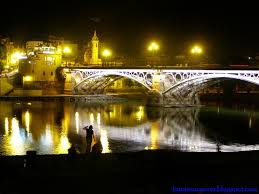 We can not forget that typical walk by the River, calle Betis and the Puente de Triana, flashes of another era, they give us to know the former Sevilla and the new. It is the bridge of wishes.
When someone comes to Seville, should enjoy the time, climate, people, environment, day and night.
But the night from Seville, is unmatched...