Museum of the Royal Maestranza in Seville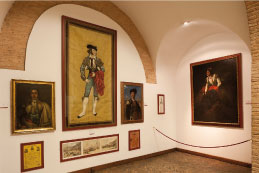 The Real Maestranza Museum in Seville has become one of the most visited , next to the of Fine Arts, and is third most visited monument , behind the Cathedral and the Real Alcazar.
It was opened in 1989 by S.A.R. Countess of Barcelona , and is divided into four rooms for which there is a tour to the history of bullfighting and the corporation. The first room is dedicated to the Corporation, and which preserves the oldest funds , highlighting a 1740 silk poster . There is also a representation of the servers of the bullring, and a space dedicated to the games used to play by the nobility of that time , where you can see a picture on the set of the heads of King Philip V. Besides maestrante uniform donated by Don Carlos de Borbón Dos Sicilias and Borbón. In the second room shows bullfighting paintings of nineteenth century , for which it is important to note that representing Pepe Hillo fatally gored by Eugenio Lucas Velazquez , Goya 's disciple . The third room is the golden age of bullfighting , with special attention to two important bullfighters , Juan Belmonte and Joselito " El Gallo " with bronze sculptures and paintings dedicated to them . In the fourth room there are several objects related to the national holiday as capes , costumes , stuffed bull heads and contemporary paintings and oil paintings . The visit to the museum is a guided tour in Spanish and English with a duration of 20 minutes. Visiting hours are: - From 9:30 to 19:00 hours (from 1 November to 30 April) - From 9:30 to 20:00 hours (May and October) - From 9:30 to 23:00 hours (from 1 June to 30 September) Closed Good Friday and December 25 . The days of run open only from 9:30 to 15:00 , except heifers promotion which runs until 19:00. Price : -7 Euros. -4 Euros over 65 years , pensioners and students . -3 Euros children 7-11 years and free 0-6 years. Free entry Monday 15:00 to 19:00 hours.
We request your permission to obtain statistical data on its navigation on this website, pursuant to Royal Decree-Law 13/2012. If you continue to browse we consider to accept the use of cookies. SPECIAL CANCELLATION POLICY FOR HOLY WEEK,APRIL FAIR /PRE-FAIR • Non-refundable Rate/ Sevilla Monumental: The 100% of the whole stay will be charged at any time after booking. 100% non-refundable amount. In case you modify, cancel or you do not show up, you will loose the 100% amount. • Flexible rate/ Sevilla Clásica: The 50% of the whole stay will be charged at any time after booking. Free modification or cancellation until 15 days before arrival date. In case of non presentation, late modification or cancellation, you will loose the 50% amount of the whole stay. NOTE: For Holy Week reservations including Good Thursday and Good Friday, a minimum stay of 4 nights will be required, and you must pay for all of them after booking.
OK
|
More information