West-Eastern Divan Orchestra In the Maestranza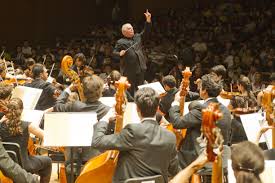 The West-Eastern Divan Orchestra, directed by the israeli maestro Daniel Barenboim and formed by Arab, Israeli and Spanish, musicians will perform a concert in Seville. On Sunday, January 18, at 20:30 concert will take place in the Teatro de la Maestranza in Seville.
An unforgettable concert
The concert  program will include works by Mozart, the marriage of Figaro, Concerto for oboe with Orchestra or concert for piano and Orchestra No. 27. The concert will be the performance of two exceptional soloists, the maestro Barenboim and the oboist Cristina Gómez Godoy.
Concert in Seville, both of Córdoba is will offer box office discounts of 50 per cent of the towns of paradise for people in a situation of unemployment, prior accreditation.
Entries will have a cost of between 16 and 45 euros.