Palace of the Marquises of la Algaba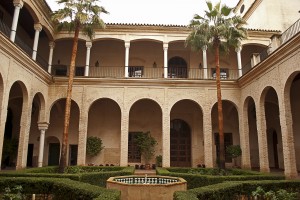 A center that hosts all kinds of exhibitions and events dedicated to the citizen, always starting from the diffusion of the Mudejar style. Precisely Mudéjar Interpretation Center has received since its opening in January of this year more than 30 thousand visitors. The palace has been converted into a multipurpose ideal place for conferences, presentations of books, concert, meetings and exhibitions.   The Palace of the Marquises of la Algaba, is the cultural and citizen space, is the most increased visits experienced becoming a reference when it associations, groups, citizen groups and governments want to develop their activities in a incomparable setting of the historical Seville.  
As additional information, the Palace of the Marquises of la Algaba, particularly its tower, built in the fifteenth century, is one of the most prominent architectural elements, although it has suffered throughout its history changes in its architecture and Renaissance influences, well, with all these changes have served to embellish the palace with the passage of time, it have grown into a splendid place rich blend of cultures, a fascinating museum for visitors who want to know of this particularity.
Book
hotels in Seville center
and take the opportunity to visit this and other riches that the city offers.