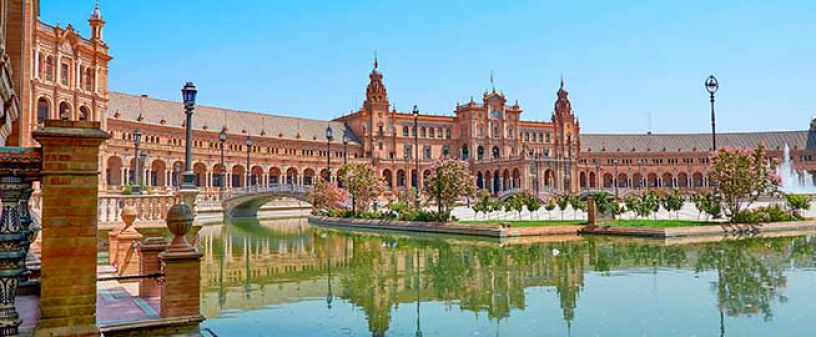 Plaza de España in Seville
One of the most spectacular places in the world has to be, necessarily, the Plaza de España in Seville. This place makes up an atmosphere that all people should feel at least once in life. What makes this Plaza de España so special? If you want to know, do not stop reading these simple lines where you will know more in depth this architectural set. Let's talk about the Plaza de España in Seville!
History and description of the Plaza de España in Seville
The Plaza de España is a small area of ​​Seville that dates back to 1929. It is located inside the María Luisa Park and is one of the largest buildings in Seville. At least of those elaborated in the twentieth century!
In relation to the history of this Sevillian Plaza, it can well be said that it was designed for the Ibero-American exhibition. This same one took place in 1929, already when the square was finished. This square began its construction in 1914!
If descriptions are spoken, it can be said that this square has a little more than 170 meters in diameter. It has an elliptical shape and faces the Guadalquivir River. It has an area of ​​50000 square meters of which only 19000 have building. The rest is a beautifully preserved space! In addition to this, it has a fine ceramic decoration and some columns made of marble. All a visual show for sure!
Why visit the Plaza de España in Seville?
Now that you know something about the history and descriptions of the square, it is worth mentioning this point. Why visit the Plaza de Espala in Seville? Very simple, because it is a place that has much to offer to anyone who visits it. Proof of this are these curiosities that you can not help but know:
The reason why it has an elliptical shape is because it symbolizes the embrace of the Spaniards towards America. In equal measure, the reason for which it points in front of the river Guadalquivir is reference to the road towards America. The whole square is a symbol of the union of the Spanish people with the American people!
This square is a recurring scene of Hollywood films and productions. To cite an example can be mentioned the film "Star Wars: the attack of the clones". Check it out and see what part of the action takes place in this square!
King Alfonso XII was the first to put a rock for the construction of the square. Once he had finished, he exclaimed: "I knew it was going to be a beautiful monument, but I did not expect it to be that much!"
The last restoration that the square suffered was in the year 2010. This brought new airs both to Seville and to this spectacular square.
It has many architectural details that enclose much of the history of all Spain. There are so many that it will not be enough for you to assimilate them all!
For this and much more, it is worth knowing and visiting this square of Seville so representative. You will feel like you are in another world upon entering this place!