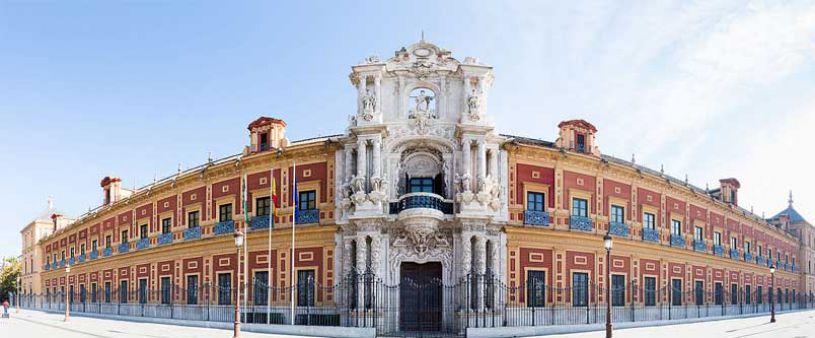 San Telmo Palace, Seville
You don't think history and beauty go hand in hand, so you don't know the San Telmo Palace, Seville. An entire architectural work that dazzles by itself! If you are looking for a unique tourist site in Spain, then don't forget to visit this place in Andalusia. Stay here and find out a little bit more about it, so you can get out of related doubts. Don't wait any longer and read this content!
The beautiful San Telmo Palace, Seville
The seat of the Presidency of the Junta de Andalucía is located in the so-called San Telmo Palace. This same one, turns out to be a baroque building that dates from the XVII century and the XVIII century equally. Curiously, this building was created to house a school of sailors. Look what it turned out to be!
It is not known who was the author of the plans for this majestic building in Seville. What we do know is that it was erected under royal patronage.
As far as the baroque architecture of Seville is concerned, this building is the most representative of all. It has a rectangular floor plan with several courtyards inside that connect each other. It also has 4 towers in each of its 4 corners and beautiful gardens. Its chapel, in particular terms, is the work of the architect Leonardo de Figueroa. Its decoration, for its part, was made by distinguished artists such as:
Pedro Cornejo.
Miguel de Quintana.
Domingo Martinez.
Juan Tomás Díaz.
Without a doubt, what stands out the most about this establishment is its outstanding Baroque façade. In it, there lies a Baroque style doorway that is a delight to the eye. This façade also has the so-called twelve famous Sevillians, which are nothing more than sculptures by Antonio Susillo.
What more can be said about the architecture of San Telmo Palace? You have to visit her!
Why visit San Telmo Palace, Seville?
The reason why you should visit this monument in Seville is because of its great historical aspect. He's got over 400 years standing in that building! It has gone from being a royal palace to a seminar, and has now become the presidency of the Junta de Andalucía. A piece of historical art that characterizes Seville and all of Spain!
Added to the above, you can say that you can't miss visiting this space because of its unusual beauty. The same one, turns out to be of such a magnetic attraction that you don't want to miss it. Its beautiful spaces provide a comfortable and satisfying feeling that is difficult to explain in words. And what about the twelve illustrious Sevillians!
To visit this place you only have to go to Seville and locate the Avenida de Roma. This is located in the outskirts of Seville, next to the Guadalquivir River. You can find your way through Cristina's gardens right in front of you! Guided tours are usually done on a fairly regular basis and at no particular cost. You have to call to make a reservation!
What are you waiting for? Be sure to visit and know this beautiful monument that is appreciated in Seville. Yet another reason to discover the architectural beauties that Spain hides!