Seville, the eighth Wonder of the World?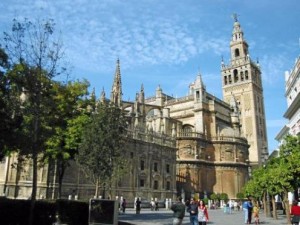 The digital magazine Virtual Tourist (Tripadvisor group) has a new challenge: Find the 8th Wonder of the World. It could be the city of Seville, because at the moment is among the top 25 positions of a total of 350 nominated. The designated set World Heritage Site formed by the Alcázar, the Cathedral and the Archivo de Indias, was chosen by Tourism of Seville as a representation of the beauty of this city. Currently, the 7 Wonders of the modern world are Chichen Itza in Mexico, the Colosseum in Rome, Italy, The Cristo Redentor statue in Brazil, The Great Wall of China, in China, Machu Picchu in Peru, Petra in Jordan and The Taj Mahal, India. Do you want to help to Seville to be part of this Wonderful list? It's easy: To vote, you only have to follow these steps: 1. Enter the 8thWonder web 2. Write "Sevilla" in the search box on the top right corner. 3. Click the blue button in which you can read VOTE. You can vote once a day until September. Follow the conversation on twitter with #8thWonder Come and see what is perhaps the eighth wonder of the world and book at the
hotels of Seville center
, very close to this and other monuments.