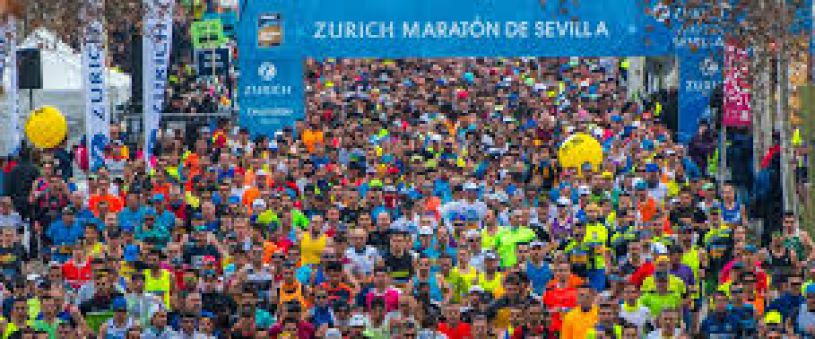 Seville Marathon 2019
Thirty fifth edition of the marathon of Seville. With more than 8,500 registered in the previous edition, the busiest race in Seville will take place on February 17. But this year, in addition to the novel and emblematic route, there will be an endless number of events and complementary activities:
Photography course:
At present neither the bases nor the registration are available, but the winners will have special prizes if they manage to portray the sports spirit in the beauty of Seville.
Children's race:
of non competitive character, it is a small race with distances adapted to the ages of the participants, which will be between 0-12 years.
Seville Marathon 2019
Directed trainings:
Both in Seville and Madrid, coordinated by experts in athletics and specifically in this specialty of marathon. Its function is to guide the participants with guarantees of success and security.
In Seville they take place in the Maria Luisa Park, starting on December 10 and repeating every Monday, Wednesday and Thursday starting at 20:30.
In Madrid you can get acquainted with the INEF-Consejo Superior de Deportes, on Saturdays at 09:00 hours.
Expomaratón:
fifth marathon fair for consecutive year at FIBES, where participants can pick up the race bib numbers and bags. It will be held on the 15th and 16th days before the race with a schedule from 10:00 to 20:00 uninterrupted. You can enjoy talks, talks and exhibitions.
Lunch on February 16 with pasta to fill the body with very useful hydrates in the marathon. It will be held in Fibes, in Hall 3, with several shifts between 12.30 and 15.30. For participants with back will be free and will cost € 4 for companions or € 2 for children.
POINTS OF ANIMATION
1. Torre del Oro. Los Crazy de los 40
2. Plaza de Armas (estación de buses) (salida viaducto, estación bus entrada a C/Torneo, frente plaza de armas)
3. Resolana (en la muralla). Hotel Trip Macarena. Yogui Band
4. Estación de Santa Justa / Rotonda. Planeta Crema
5. Esquina del polvillo The ricers
6. Pabellón San Pablo (Media Maratón). Bumblebee
7. Centro Deportivo Antonio Puerta (antes de Gran Plaza)
8. Calle Greco esquina avenida de Andalucía. Antigua fábrica Cruzcampo (antes de girar a la izquierda para la calle)
9. Hotel Los Lebreros.
10. Avda de la Palmera (al lado campo Betis).
11. Plaza de España. Mercader
12. Catedral de Sevilla (parada del tranvía). PUT OFF
13. Plaza Nueva. Nada personal
14. Alameda de Hércules. En La Campana (entre C/ O´Donnell y Plaza del Duque). Calle Retorno
15. Rotonda Isla Mágica tras cruzar puente La Barqueta. Physiorelax
16. Rotonda que separa Isla Mágica, Hotel Barceló y Teatro. RUARUIDO & Lxs Sambonautas
This year's tour maintains much of the road from previous editions. Both the goal and the exit will be in the Paseo de las Delicias. With only 33 curves and the flattest circuit in Europe (only 10m difference between the highest point and the lowest point), this year's goal is to make a race as fast and linear as possible, which is why Seville has perfect characteristics to host a marathon.
In addition, this year the center of the city comes into play. Because the tour will go into the historic center of Seville, as well as the most important points of interest in the city. Thus, the companions will be able to follow the advances of the runners in up to 4 points of the route without almost moving. We must also talk about the many animations that are planned this year. This is probably the most spectacular edition of all.
And after the race, when you need a well-deserved rest, think that not all the hotels are worth. In Hotel Adriano we have rooms full of details that will make you feel comfortable and relaxed. Cheer up to run the marathon of Seville and stay with us to have a weekend round.