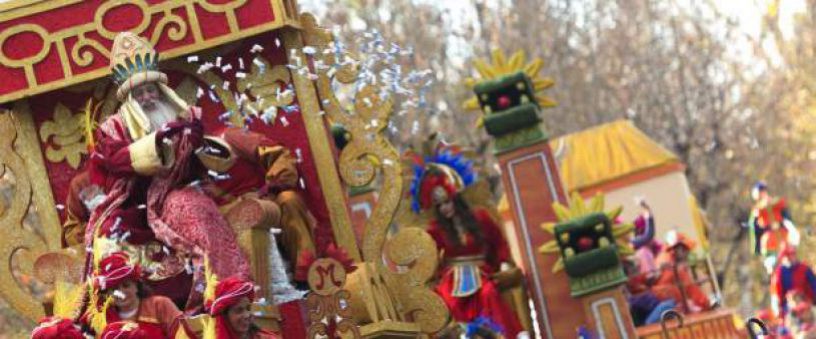 The Magi parade in Seville 2018
The Magi parade will take place on January 5,2018.
The traditional cavalcade celebrates this year the centenary since its foundation, so it is expected to be a more special day if possible.
The departure will take place from the University at 4.30pm and will travel through the streets of Seville until after 10pm.
The Magi parade in Seville 2018
This year, King Melchor will be represented by the Director General of the Spanish Institute Vicente Granados, King Gaspar will be the businessman Paco Salas and King Balthas Rafa Serna, well-known composer, music producer and businessman.
In addition to the Magi within the procession will be the Star of Illusion, embodied by Ana Pita Manzanares, as Wizard of the Fantasy Juan Francisco Rodríguez Cabrera, the Great Vizier Fernando Rodríguez Galisteo among others.
The author of the poster is the Graduate in Fine Arts from the University of Seville Jesús Vega Santos
The itinerary of the parade will be the next one:
– Start Universidad de Sevilla (16.30 h)
– c/ Palos de la Frontera
– Glorieta San Diego
– Avda. El Cid
– Plaza Don Juan de Austria
– Menéndez Pelayo
– Recaredo
– María Auxiliadora
– Ronda de Capuchinos
– Muñoz León
– Resolana (18:10 h)
– Feria
– Correduría
– Trajano
– Plaza del duque de la Victoria (19:00 h)
– Plaza de la Campana
– O'Donnell
– Magdalena
– San pablo
– Reyes católicos
– Puente de Isabel II
– Plaza del Altozano
– San Jacinto
– Pagés del Corro
– Génova
– Plaza de Cuba (20:20 h)
– Asunción
– Virgen de Luján
– Glorieta de las Cigarreras
– Puente de los Remedios (20:50 h)
– Glorieta de los marineros voluntarios
– Paseo de las Delicias
– Avda. de Roma
– Palos de la Frontera
– Entrance Baltasar (22.00 h)
Don't miss it! Live the most magical day of the year in a magical city. Book in hotel Adriano, best prices and discounts on our website.
P.R.C.