Bullfight Seville 2013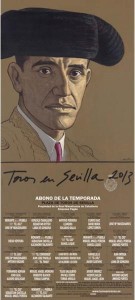 As is tradition, the Real Maestranza of Cavalry of Seville, has hosted the presentation of the poster announcing the bullfighting season in Seville 2013.
At the event, featured the lieutenant Brother of the Real Maestranza, Javier Benjumea. The author of making the poster this year, has been the famed portraitist Cortes. On this occasion, Cortes used the face of the bullfighter Juan Belmonte for the poster, with his cap on, as a tribute to have been 100 years since its alternative. Other prestigious contemporary painters, have also been important authors of this poster. Artists of the caliber of Fernando Botero, Miquel Barceló, Larry Rivers and Alex Katz, among others, have been chosen to perform the aforementioned request. For more information visit the website of the bullring www.plazadetorosdelamaestranza.com. The Hotel Adriano is the
nearest accommodation to the Bullring
of Real Maestranza , in the historical and monumental center of the city.