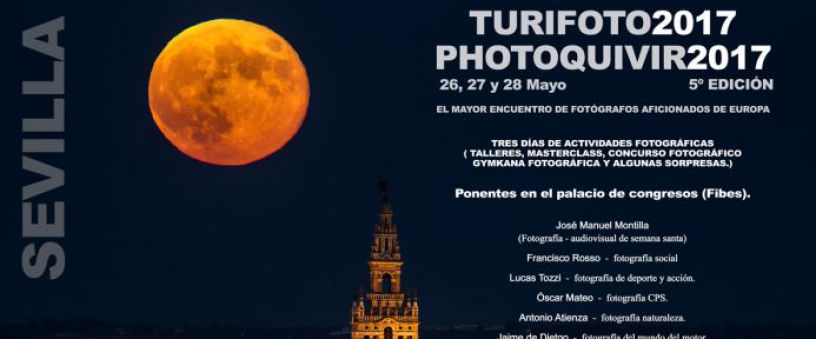 TURIFOTO-PHOTOQUIVIR 2017 SEVILLE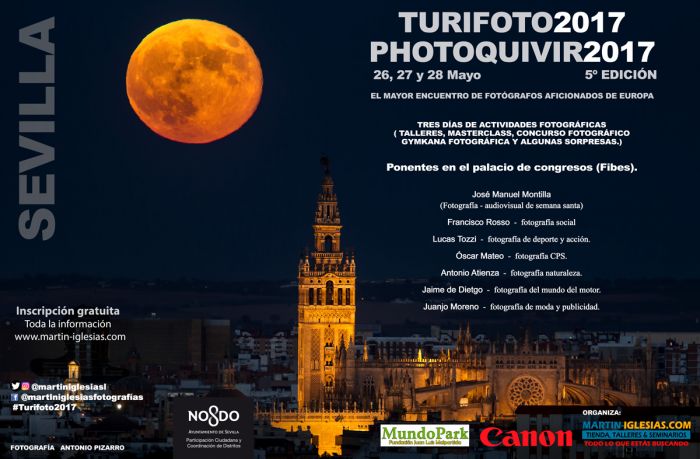 Seville will held the 26th, 27th and 28th of May 2017, TURIFOTO-PHOTOQUIVIR 2017 (the 5th edition of the largest meeting of amateur photographers in Europe).
TURIFOTO-PHOTOQUIVIR is a non-profit association whose registration is for free with limited places.
5º MEETING TURIFOTO-PHOTOQUIVIR SEVILLA
If you are a photographer or you are passionate about photography, do not hesitate to register in this great opportunity to know and capture the greatest charms of Seville.
On the first day, Friday May 26, two Workshops will be held in the Plaza de España, from 8 p.m. to 10 p.m. The first of them, will be of social photography, with models, by Francisco Rosso. And the second workshop, will be fashion photography, with models too, and taught by Juanjo Moreno (best fashion and advertising photographer in Spain).
On the second day, Saturday 27th of May, a series of talks will be held at the Fibes Congress Hall, from 10a.m. to 6p.m. The speakers that will participate are:
Jose Manuel Montilla Audiovisual photography Easter
Francisco Rosso Social photography
Lucas Tozzi Sports and action photography
Jaime de Diego Motor photography
Oscar Mateo CPS Canon
Antonio Atienza Photography Nature
Juanjo Moreno Photography fashion and advertising
Fibes will open at 8:45 a.m., so that assistants can remove the technical shirt of the event TURIFOTO-PHOTOQUIVIR 2017. As well as to register to the Photographic Gymkana that will be made on Sunday, May 28, on the city center. The auditorium room will open at 9.45 a.m., and it is an obligation to enter with the official shirt that has been collected at the entrance.
The same Saturday afternoon, from 7.30 p.m. to 9.30 p.m., the activities will take place in Mundopark, where some of the workshops that will take place will be:
Workshop photography of nature, by the hand of Antonio Atienza
Workshop on sports photography, by Jaime de Diego
Horse shows
For all those who want to access and participate in these activities in Mundopark, the accreditations will be delivered at 6p.m. in Fibes, once the talks are finished. The partners of our participants, who will want to enjoy the zoo, can do it, with a 20% discount on the tickets.
On the last day, Sunday May 28, the Gymkana will take place in the center of Seville. At the end of the same, there will be a raffle of 60 prizes, valued at 8000 €.
To sum up, the registration for this event is Friday May 12, 2017 at St. Hernando del Pulgar, 11 41007 Sevilla, from 9.30 a.m. to 2 p.m. and from 5 p.m. to 8:30 p.m., until complete limit. On May 15, the online registration will be open for all those who do not reside in Seville.
MGS